Full Beam Presses are tuned towards higher level production or larger format cutting. Standard

 cutting table areas are 63″ wide and up to 35.5″ deep, but can be custom ordered up to 72″ wide and 60″ deep. Tonnages are available between 30

 & 220 tons. Higher tonnages can be achieved with some more major custom alterations to the system. 

 
Full Beam Presses utilize two cylinders connected with a mechanical equalink deflection management system that ensures proper parallelism and cutting accuracy. The machine is equipped with safety light curtains to cover all necessary pinch point areas, an automatic die clamping system for quick exchange of your dies, and intuitive touch-screen controls for easy setup and operation. The Full Beam Press comes with four different levels of automation including the manual push-table, the automatic shuttling table (and dual automatic shuttling table), the pinch roller fed, and the conveyor fed styles. 
The Manual Full Beam Press requires the operator to manually place their material and die, manually push the table into place, manually push the operation buttons, and manually pull out the table to retrieve the cut material. 
The Auto-Table Full Beam Press requires the operator to manually place their material and die, manually push the operation buttons, and then the table automatically shuttles under the head, makes a compression, and automatically shuttles the table back out for the operator to retrieve the cut material. This model mainly reduces the operator fatigue related to pushing and pulling a table manually. It also makes a basic level of registration needed for graphics or trimming applications more plausible.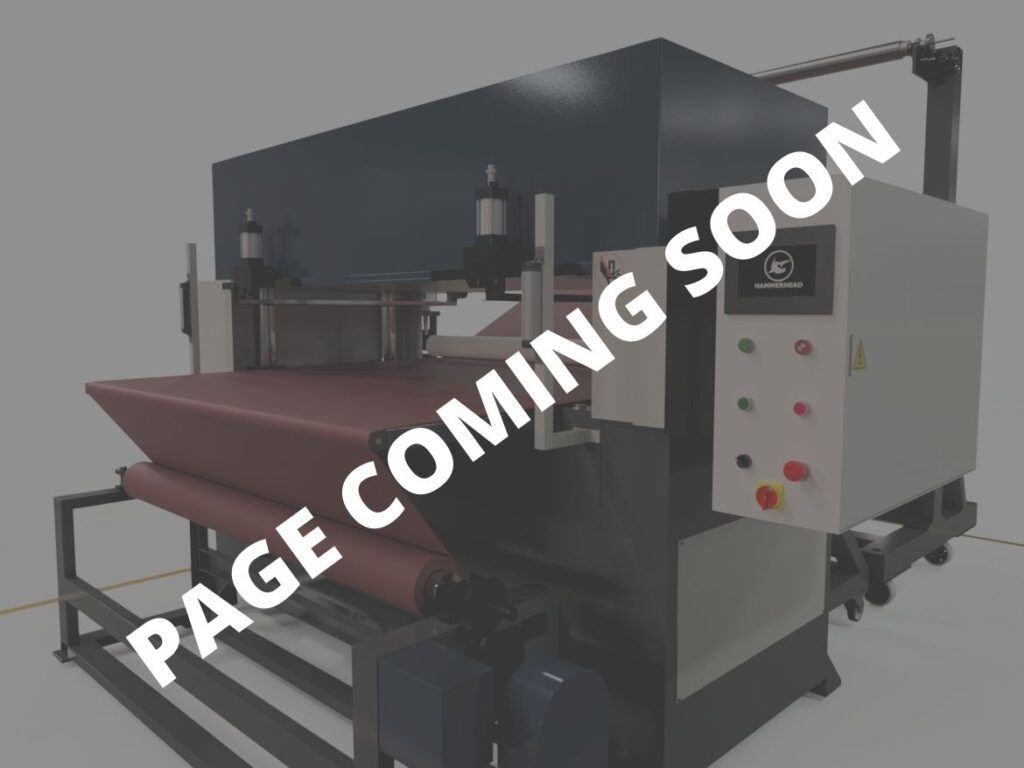 The Pinch Roller Full Beam Press is the cheapest first step into the automated cutting of a rolled material. The pinch rollers mounted on the back of the machine pull material from the roll stand and feeds it through the throat of the machine. The pinch rollers typically work in conjunction with a waste rewinder placed in the front of the machine which keeps constant tension on the material as it is coming through to keep the material properly aligned and free from bunching and folding. This style of machine typically works best with thicker and more rigid substrates. 
The Conveyor Full Beam Press is a more advanced step into fully automating the cutting of a rolled material or sheets of material. The press can pull material off of a roll and feed it through the throat, similar to the Pinch Roller Mini Beam Press. This press works with substrates of all types and thicknesses because the conveyor advances with the waste material as well as the cut pieces. Sheet feeding requires precise placement and timing through the use of an integrated robot or feeding system, but is also possible on this unit. 
Questions? Call (801) 613-7997 [Sales]
Available from 9:00 – 18:00 Mountain Time
Address: 587 W 1000 N Suite 201,
Spanish Fork, Utah 84660