The Hammerhead Swing Arm Clicker Press
A Modern Cutting Solution - Inspired by the Best - Designed for You
Introducing the HAMMERHEAD hydraulic Swing-Arm Clicker Presses – machines built for superior durability, efficiency, and precision. Our expert engineering team has carefully crafted these presses to withstand tough industrial environments.
With redesigned seals, upgraded controls, and custom power configurations, these robust machines are tailored to work in even the most challenging situations. Experience the excellence of HAMMERHEAD's engineering, ensuring reliability and quality in every product.
What sets HAMMERHEAD apart is our commitment to delivering exceptional performance at an unbeatable price. By combining top-tier functionality with cost-effective design, we ensure that our customers receive unparalleled value for their investment.
But that's not all. Recognizing that ease of operation is key to productivity, we've incorporated a user-friendly design, offering quick and effortless operation. Intuitive controls and an ergonomic layout make our swing-arm clicker presses accessible to both seasoned experts and newcomers alike.
10 TON
SWING ARM CLICKER PRESS
HEAD SIZE: 13.75"W x 17.5"D

TABLE SIZE: 31.5"W x 15.75"D

STROKE ADJUSTMENT: 1.5" - 4.75"

MAX DIE DIMENSION: 13.75" x 15.75"
15 TON
SWING ARM CLICKER PRESS
HEAD SIZE: 15.75"W x 18.5"D

TABLE SIZE: 35.25"W x 16.25"D

STROKE ADJUSTMENT: 1.5" - 5"

MAX DIE DIMENSION: 16.25" x 15.75"
20 TON
SWING ARM CLICKER PRESS
TABLE SIZE: 35.5"W x 17"D

STROKE ADJUSTMENT: 1.5" - 5"

MAX DIE DIMENSION: 14.5" x 17"
25 TON
SWING ARM CLICKER PRESS
TABLE SIZE: 39.5"W x 19.5"D

STROKE ADJUSTMENT: 1.5" - 5"

MAX DIE DIMENSION: 19.5" x 19.5"
30 TON
SWING ARM CLICKER PRESS
TABLE SIZE: 39.5"W x 19.5"D

STROKE ADJUSTMENT: 1.5" - 5"

MAX DIE DIMENSION: 24" x 19.5"
Focus on Quality and Innovation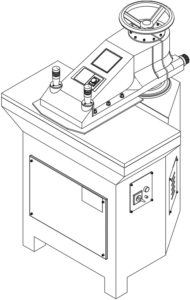 Reliability
HAMMERHEAD swingarms are designed to excel in durability, efficiency, and precision. Through the incorporation of redesigned seals, upgraded controls, and customizable power configurations, these machines are equipped to perform robustly, even in the most challenging situations. Ensuring that you receive a high-quality machine at a cost-effective price, providing unparalleled value for your investment.
Comprehensive Support and Maintenance Programs
At American Clicker Press, we stand behind our products, offering extensive support and maintenance services tailored to your specific needs. Whether it's installation assistance, routine maintenance, or emergency support, our dedicated team is available to ensure your swingarm performs at its peak, minimizing downtime and maximizing efficiency.
Customizability
HAMMERHEAD swingarms are meticulously designed by our team to offer unmatched customizability, empowering businesses to adapt the functionality and performance to meet their specific needs and challenges. This includes options for UL compliance, safety standards, and cleanroom compatibility, ensuring a tailored fit for various industry requirements.
User-Friendly Design for Quick and Effortless Operation
Designed with the operator in mind, HAMMERHEAD swingarms boast intuitive controls and ergonomic design, allowing for a more comfortable and efficient user experience. Whether you are a seasoned expert or new to the machinery, the user-friendly interface enables swift learning and easy operation, saving valuable time and resources.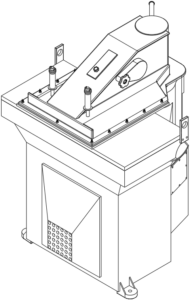 Add Your Experience to our Customer Reviews
I would give more than 5 stars if I could! We purchased a 30 Ton Clicker press and Joseph was exceptional to work with. Excellent knowledge and extremely detail oriented customer service! ...
This business is run the way every business should be run... I haven't been this impressed in a long time. If you are going to buy a press, buy it here.
I purchased both a 20 and 10 ton clicker press from American Clicker Press Company. Joseph was very helpful and responsive with all of my questions. He invited me to come to his business to test out some material on the machines before we purchased. I definitely recommend them!
"We believe that superior products start with superior presses."
"American Clicker Press is up front and open and helps you out every step of the way! Joseph even arranged shipping straight to my residential location and answered any question I had extremely promptly. These fellas are top-notch."
"Customer Service is priority, and it shows through every facet of this business... Thank you to Joseph and team for a very positive experience, and treating our small business like family!"
Rubber & Gaskets
Leather
Foam
Textiles
Abrasives
Other non-ferrous substrates
This Swing Arm Clicker Press is also commonly referred to as a:
"Swing Arm Press"
"Clicker Press"
"Swing Beam Press"
"Leather Press"
Swing Arm Clicker Presses are built very specifically and aren't modular enough to add automation capabilities in most cases. For simple automation options, speak with our engineering team. For high-production automation options, visit our Mini Beam Press page.
The American Clicker Press Company has friendly staff waiting to take your call
Available from 9:00 – 18:00 Mountain Time
Address: 587 W 1000 N Suite 201,
Spanish Fork, Utah 84660